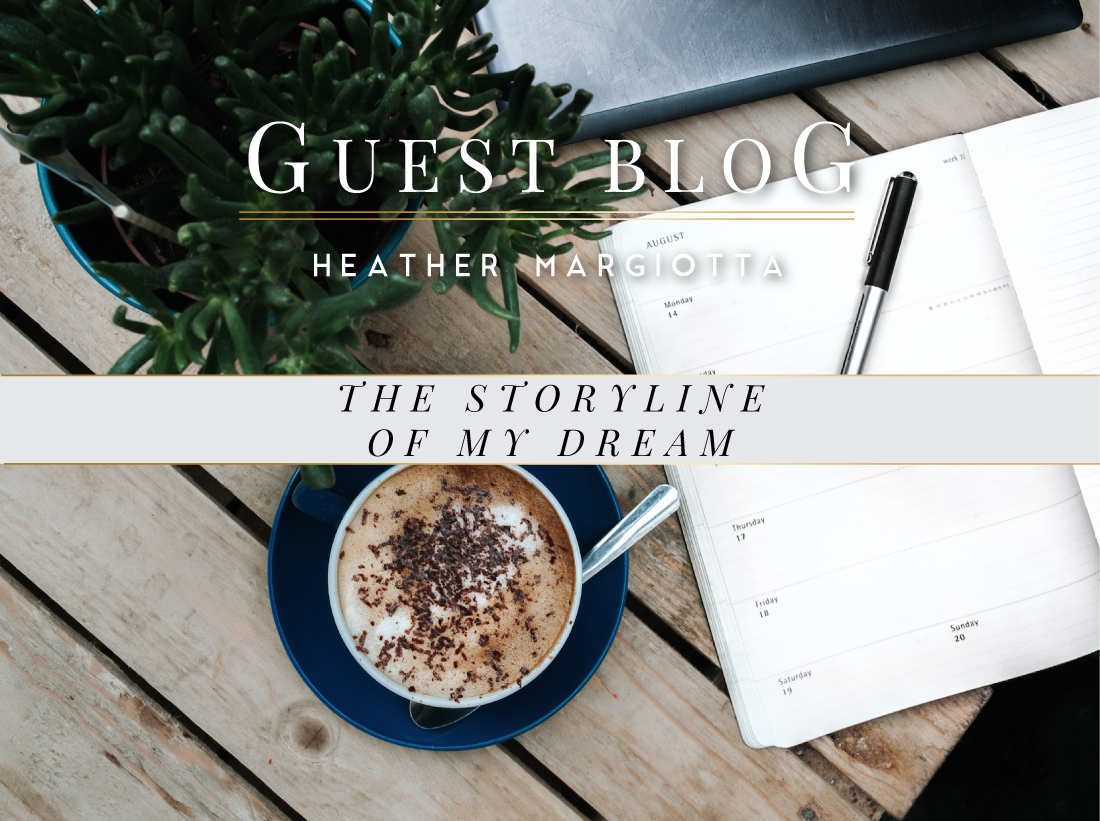 Hi love!
I recently launched my newest study, 'Written: Capturing + Cultivating the Blueprint of your Dream.'  In honor of this launch, I hosted a number of dreamer guest bloggers.  The response was so awesome that I wanted to extend this guest series to press into even more dream stories.
This week I am welcoming Heather Margiotta, a passionate storyteller for Jesus. In her blog, she shares the bigger picture of her dream, and how God truly redeemed some of the most painful parts of her life to use them to expand and encourage his kingdom.  I know you will be greatly inspired by her words.
---
I've always struggled with the idea that I would never be "lucky" enough to live the dreams in my heart. I didn't think the stars would align for me and I felt inferior to others walking a similar dream. It took me years to realize that I was believing a lie and allowing it hold me back from God's will in my life.
To give a little backstory, ever since I could remember I loved to write and tell stories. Everything that happened in my life was worthy of a story with a lesson learned. It wasn't until I gave my life to the Lord that I started to realize that maybe there was more to my writing and storytelling. Throughout the years I've had different people say they could see me sharing about Jesus through speaking and writing. From a youth pastor to a college professor to a close mentor, just to name a few. I felt the calling early on to go into ministry and every step I took God placed someone in my life that spoke how they saw my ministry outside the walls of the local church.
After college, while youth pastoring I had a close mentor encourage me to start blogging. I had no clue where to begin and what I would even write about. But when she spoke to me, I felt like the words she was speaking was igniting something in my heart. When I shared that I didn't know what I would write about, she gave me the best advice. She told me to keep chasing after God and He will give me a voice.
Shortly after that conversation with my mentor the next four years of my life would radically change me. I was in a very negative and discouraging position in ministry where I doubted a lot about myself and capabilities as a leader and a women in ministry, I lost my only sibling to a secret drug addiction and was left to pick up the pieces of my broken family while struggling to deal with grief myself, and I was deeply hurt by broken friendships and wondered if God would ever send me a true friend. My husband and I wanted a change and God sent us across the country to work for a foster care agency where we fostered over forty children. During that season we adopted one of our foster kids and biologically had a son. It was an insane four years in the best and worst of ways. Everything in my life changed; my family structure, how I was doing ministry, and all my friendships.
Eventually, God lead us out of our foster care roles and placed on my heart to spend more time pouring into my family. I spent a year being a stay at home mother and inside of me I felt like I was going stir crazy. I had all these thoughts, passions, and ideas swirling inside my head and heart and nothing to do with them. God blessed me with a friend who saw the calling on my life and ran with it. God used her to show me that I have something to share with others. I finally found my voice. I began writing on my blog about foster care/adoption, grief, spiritual growth, and relationships. It was these tough seasons God allowed me to walk through so that I can walk out wanting to help others.
The last 20 months have been filled with so much more than writing and speaking. I've built relationships with the women who visit my blog regularly, I've heard numerous testimonies from people sharing how God used my words to speak to them, and some great opportunities to meet other people in the same field. God used this season to show me that He is the one who will align my stars. While reading Laura's book "Written" I was reminded of that. The more I chase after God and passionately pursue Him, the stars will align and I will walk in the dreams God's placed on my heart. There is nothing better than to be in the will of God and the only way we can be is by staying close to Him.
My all-time favorite story in the Bible is the story of Joseph and that's partly why I can't put Laura's book down. I always admired how he maintained his relationship with God with the highest levels of character and integrity. He never allowed the situations he was currently in to distract him from the calling God has placed on his life. My favorite part of Joseph's story is how God placed a dream in his heart and all the steps that followed seemed to be completely opposite from the dream God gave him, yet they were actually each step closer to the dream. When my brother died and my family was hurting, I wondered how there could be good in such a dark and heavy place. When I had walked through failed friendships, I thought there was no way I would find Godly friendships. When I was discouraged in my dreams, I thought I would never take another step forward again. However, each season I walked through is now part of my writing and how God uses me to minister to others.
I want to encourage you to do the same. I never could have imagined years ago God would send me a friend and through that friendship my blog and speaking would be birthed. I never would have imagined to be living my dream as a full time job while still being a stay at home mom. Everything I am walking through right now is so much better than I would have done myself had I chased my dream above God. There is purpose behind every season of life you are in. Each season will play an intricate role in forming and shaping you to who God has called you to be and for you to live the dreams He has called you to.
---
HEATHER MARGIOTTA is a Christian Writer and Speaker from northeast Ohio. She is a wife to a loving husband and a mother to two handsome sons. She received a bachelors degree in Theology and writes about her faith, adoption, relationships, and grief on her blog, HeatherMargiotta.com. Besides loving Jesus and her family, Heather is obsessed with coffee, local pizza joints, and nail polish. Find her on Instagram and Facebook.