More Than We Can Dare to Dream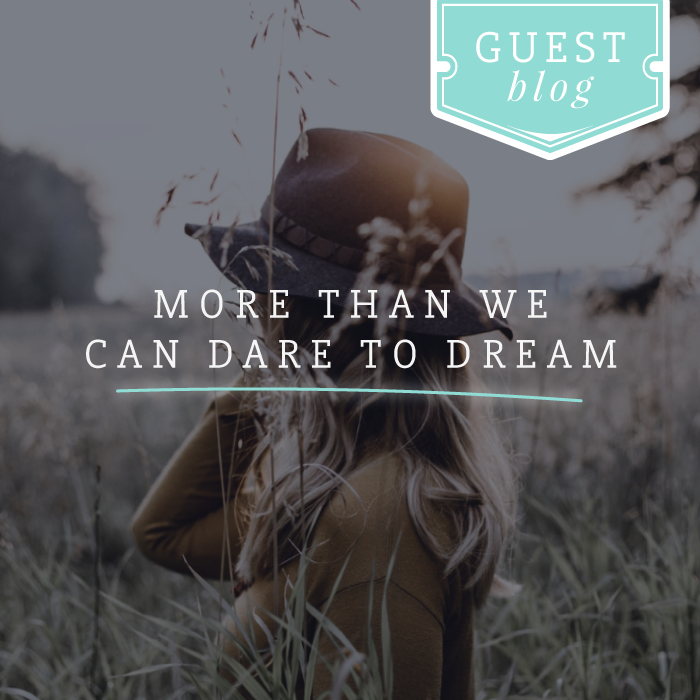 Hi love!
In honor of my new Bible Study, 'Written: Capturing + Cultivating the Blueprint of your Dream,' launching this upcoming Monday, I have been hosting a guest blog series! Featuring a new dreamer every week, you will be inspired by their real journeys of pressing into their dreams.  Andrea Anderson is visiting us this week, and she opens up about a recent struggle in her dream pursuit and how God met her in that inner-conflict.  Her story resonates with so many of us dreamers, and today she will greatly embolden you!
---
As I write this, we're two days away from New Year's Eve and 2017 is quickly drawing to a close. It's been a year marked by burnout and frustration at unfulfilled ambitions, a deep knowing within myself of what God would have me turn my hand to and blossoming hope and joy in seeing God's hand at work.
Here's a brief peek behind the scenes of what 2017 looked like for me…after months of wrestling with the decision, I ended my partnership with a company that no longer felt like the right fit. Since doing nothing didn't feel right, I began asking God to affirm a new direction. He answered by prompting me to take my plant-based food blog, wildberrypress.com, from hobby status to a business. While that has been fulfilling in many ways, as a multi-passionate entrepreneur, I still felt like something was missing. I felt God had planted greater dreams in my heart that were seeking fulfillment – the desire for community and to have a greater impact in helping other women walk in their intended calling. I believe He brought the answer with the opportunity to partner with a new company as the avenue for just that!
Those months of waiting and wrestling were painful. I lost my direction, my clear purpose and my confidence took a hit. Clearly, I was struggling to trust God to bring me through that desert place. It's something I struggle with frequently whenever I am waiting on God to act in a tangible way.
In those moments, my internal dialogue looks something like this: "What am I doing wrong, God? Did I not hear You clearly? Are these desires I have sinful and not of You because they're too worldly? Surely, if this is for me, I would be having more success like [insert names of people who are winning]! I want to do more than "just" be a mom, but that feels horrible to admit and maybe I need to wait until they're grown? Maybe I'm not cut out for this after all. Maybe doing well at having my own business just isn't for me."
Ouch!
It's hard seeing these lies and accusations launched from the direction of our enemy right there in black and white…hard because I've found it easier to believe them than our loving God who has a very specific purpose and plan laid out for each of us.
While the waiting often brings this on, I also fall into that trap by pigeon-holing God by my own finite mind…asking and thinking about what seems doable or logical or deciding ahead of time how I expect He will answer those hopes and dreams. Which is why I constantly need the reminder found in Ephesians 3:20-21.
In the amplified version of the Bible, those verses read: "Now to Him who is able to [carry out His purpose and] do superabundantly more than all that we dare ask or think [infinitely beyond our greatest prayers, hopes, or dreams], according to His power that is at work within us, to Him be the glory in the church and in Christ Jesus throughout all generations forever and ever. Amen." (emphasis mine)
In the Abide app (my new favorite), the contributors entitled this Scripture meditation, "God Can Do the Impossible."
Isn't that exactly what we need to hear, fellow dreamers? That God can do what feels impossible when our dreams seem bigger than our pocketbooks, the hours in our day, our connections, talents, ability, social status? Can you feel the sign of relief, the washing of peace, the freedom to dream wildly and bigger?
Let's do something together to act on this truth...will you comment with a dream that feels impossible for you right now…a dream God has laid on your heart for this year. Then pray for the woman who comments above you with her dream and write down your dream and her dream and wait and watch and see what God will do. Like Jesus's birth, I suspect God will surprise us all in the way He chooses to answer…a way that will be more wonderful and glorious than we could ask or imagine.
---
ANDREA ANDERSON is a multi-passionate creative entrepreneur who lives in Cleveland, OH with her husband and four children. She's grateful God has given her the opportunity to pour her creative bent into her plant-based food blog, wildberrypress.com, where she crafts and shares vegan food recipes for consumption..something she never dreamed she'd be doing in a million years. Her second business venture marries her passion for plant-based products with her desire to coach women to flourish and thrive in business and their personal lives.
VISIT HER on FB @/wildberrypress and on IG @andrea6anderson.