3 Keys to Dreaming with God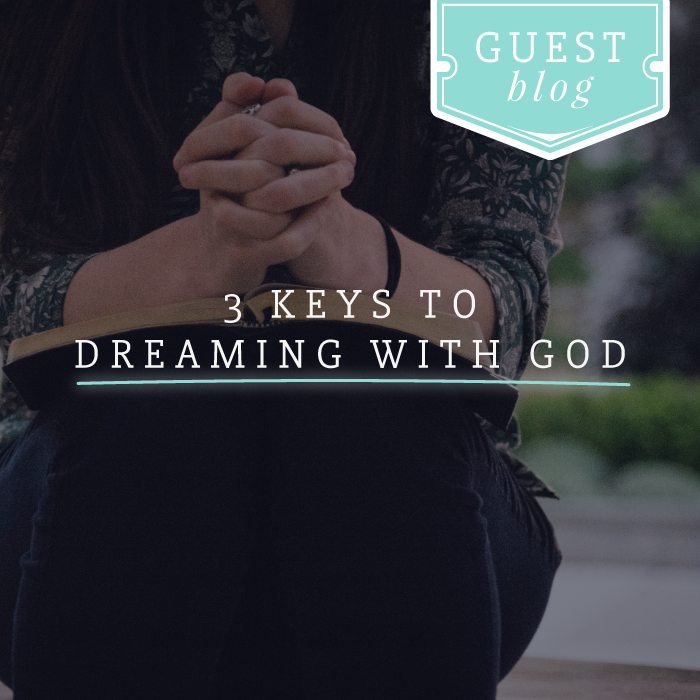 Hi love!
In honor of my new Bible Study, 'Written: Capturing + Cultivating the Blueprint of your Dream,' launching this January, I am hosting a guest blog series! Featuring a new dreamer every week, you will be inspired by their journeys of pressing into their dreams.  First up, Melissa Secchiaroli- an incredible young leader from Buffalo, New York whose heart is to see hope rise in the world. Read her reflections and find hope today!
---
Friend,
Can you believe that we are already in December? Where did this year go?!
I hope your 2017 was productive and fruitful, discovering more of God's love and plan for your life!
As 2018 approaches, I want to encourage you to take this month and really seek out some goals for 2018. Don't think of it as just your typical 'New Year's Resolutions.' Get alone with God, seek His face, and listen to what He wants to do in and thru you in 2018.
Anyone can make a plan and tackle it on their own strength and terms. As Christ followers, we are meant to make plans and fulfill our dreams, but most importantly, we are meant to do it God's way and on His timing.
Our dreams and goals are meant to be about more than our little lives. We are meant to do what God has called us to do in our lives, careers, businesses, and families so that everything we do points to Christ. God has called you to fulfill a specific purpose, but that specific purpose is designed to reach the world for Christ.
Lately I've been thinking of three different qualities: Patience, Perseverance, and Wisdom.
Let's begin with patience…
The bible says; "The Lord is good to those who wait for him, to the soul who seeks him." Lamentation 3:25
Waiting. Patience. Qualities that all of us struggle with. I personally believe we get too impatient with God. We get mad at Him when He doesn't work in our timeframe. We forget that He is our perfect, loving Father who knows what is best for us. We forget He is always in control and that His timing is always perfect. In 2018, practice patience. Learn how to wait on God, enjoy His presence, and trust in His perfect timing. Remember that we follow Him because we love Him for who He is, not just for what He can do for us.
Galatians 6:9 says "And let us not grow weary of doing good, for in due season we will reap, if we do not give up."
Take note at the end when it says- "…if we do not give up." I truly believe many people don't discover all of what God has for them simply because they give up! When we become impatient, we turn away from God and run after our own desires. Our impatience can then lead to a path of destruction, hurting us spiritually, emotionally, or possibly physically. When the going gets rough, seek Jesus in the midst of the trial. Get alone with Him and cling to His word and promises. He promises to be faithful to you if you remain faithful to Him (Hebrews 10:23, Proverbs 3:3).
Proverbs 3:13-15 says "Blessed is the one who finds wisdom, and the one who gets understanding, for the gain from her is better than gain from silver and her profit better than gold.  She is more precious than jewels, and nothing you desire can compare with her."
Did you know the bible says that? That wisdom is far better than the "gain of silver?" Most people seek after riches (including Christ followers), but God asks us to seek wisdom. God knows that wisdom is what will provide for our lives, not just in our wallets but in all areas, spiritually, emotionally, and physically. In 2018, seek wisdom from the bible. If we gain wisdom and apply it to our lives, we could make huge strides to be the people we desire to be.
As 2017 comes to a close, ask the Lord to search your heart and reveal any wrongful motives that may be within you. The Lord desires us to be holy, in our actions, intentions, and motives. Practice patience, prepare for perseverance, and seek wisdom. Do these things, and watch how God moves in and through you to change the world around you in 2018!
---
MELISSA SECCHIAROLI is passionate about all things Kingdom. A gifted writer and aspiring speaker, she's infused with passion to lead people closer to Jesus by inspiring a life of surrender. God radically transformed her life in 2010 after rescuing her from a life of depression and worthlessness. Melissa is currently helping advance Total Breakthrough, a non-profit dedicated to helping people find freedom in the areas of faith, family, fitness, and finances. Melissa and her husband Vincent currently live in Buffalo, NY.
VISIT HER AT www.hopesrising.org